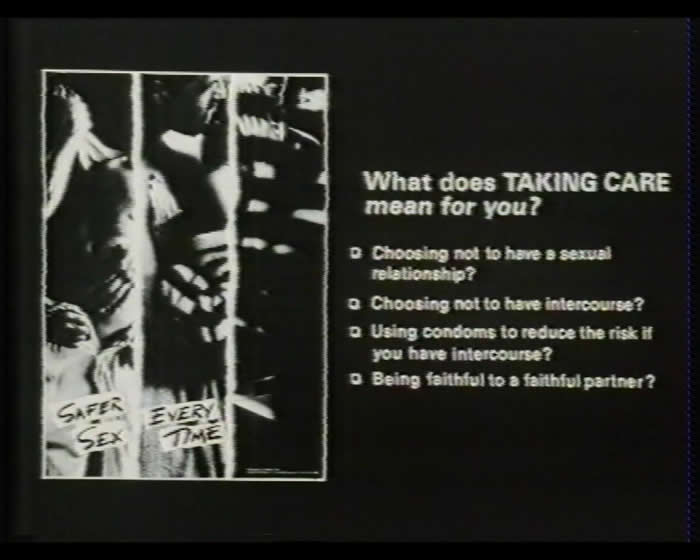 Screen shot from GD22/12/24, an advert for the National AIDS Helpline. Shows loss of visual quality.
Digitisation
Media is not only at risk of physical and chemical deterioration, but also risk of becoming obsolete as technology changes. One solution to this is digitisation. This involves transferring the information stored on the media into a modern format. However this is not a long term solution as it does not preserve the film, but merely prolongs its life in another endangered form. It is therefore recommended to refresh the format of modern material every 5 years to keep it up to date and useable.
Best practise is to avoid compression of the media during transfer as this reduces the quality of the image. However, compressed copies can be made as access copies, thereby reducing the use of the master copy.
In this project, VHS has been transferred to an uncompressed 10-bit avi format and audio has been transferred to 24/96 wav. Both of these formats have been stored on an external hard drive, due to the large size (1TB). Access copies have been stored on a DVD which have a gold reflective layer and phthalocyanine-based dyes ("Gold Discs") as it has been suggested that these have the greatest life span.
Unfortunately at present, the budget for this project does not allow for the digitisation of the film reels.