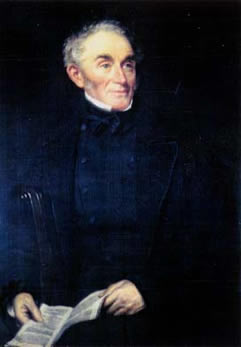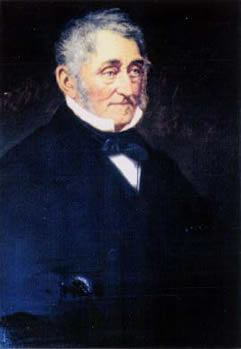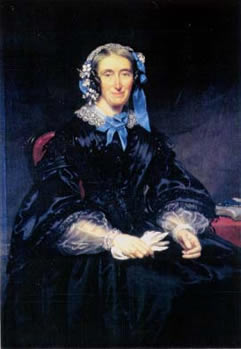 Portraits from the Royal Infirmary of Edinburgh Boardroom
Duncan Vertue, 1799-1883, his brother George and sister Margaret
Connection with the Royal Infirmary: Duncan Vertue was a 19th Century benefactor


Artist: William Smellie Watson, 1796-1874


Date of Portraits: c. 1870
The modern era of State medicine enshrined in the National Health Service looms very large in today's expectations about organised health care in Scotland and Britain generally. From a historical point of view, however, it is a remarkable fact that this period only accounts for approximately one fifth of the Infirmary's long and distinguished past. From 1729 until the "appointed day" of 5 July 1948, the hospital was entirely funded on a voluntary basis by charitable subscriptions. Dr Duncan Vertue was probably the greatest of the Infirmary's nineteenth century benefactors, having bequeathed his entire estate in 1883. This amounted to £115,056 9s 3d. His portrait and those of his brother and sister are in the Board Room not only to commemorate his particular gift, but also all the donors who virtuously gave to the hospital.
Duncan Vertue was born as the eighteenth century was drawing to a close. He first studied medicine at Edinburgh University between 1813 and 1817, returning for a further year in 1822-23, when he took a course of clinical medicine at the Infirmary. This marked the beginning of his acquaintance with the institution, and his lifelong loyalty to it manifested itself in his will some sixty years later. It stated that the "Vertue Trust" was specifically for "the general maintenance and support of the Infirmary, and as part of the Capital or Income can at any time be applied for Building Purposes".
Although he is generally referred to as Doctor Vertue, he does not appear to have graduated MD at Edinburgh. Instead he took the Diploma of the Royal College of Surgeons of Edinburgh. This was the preferred qualification for those wishing to enter the Honourable East India Company Service (HEICS). He became an Assistant Surgeon with the HEICS on 14 December 1823 and a Surgeon in 1837, four years before he retired and returned to Edinburgh. From the very beginning, Scots had always played an important role in the Company, and young medical men who had been "bred to physic and surgery" at Edinburgh were always sought after. Appointees were able to trade in goods and, if they had sufficient capital of their own, to invest in commodities. As Vertue does not appear to have risen to a high medical rank, presumably this is how he amassed his considerable ptivate fortune.
The ways of nineteenth century philanthropy were not always straightforward and, from the hospital Minutes, it would appear that Duncan Vertue's generosity produced some consternation among his younger relatives at least. As their portraits suggest, his brother George and sister Margaret were financially comfortable. There was a wine merchant business in Constitution Street, Leith, run by the family who were thus well provided for independently of their brother. However Duncan's younger nephew, George, facing financial hardship as a result of a debilitating illness, was forced to approach the Infirmary through the family solicitors and plead for an allowance from his late uncle's Trust. After looking carefully into his circumstances, the Infirmary awarded him £140 of the £5,000 annual interest they received. But there was a condition: "In return for which Mrs Vertue [his wife] shall give her services to the Infirmary as a Lady Teacher for the general education of the young patients".
All three portraits were presented to the Infirmary in 1883 after the estate was wound up. The artist, William Smellie Watson, was the son of the first President of the Royal Scottish Academy and was a well-known local portrait painter. As a tribute to Duncan Vertue's generosity, the Managers of the Royal Infirmary renamed one of their wards the Vertue Ward.